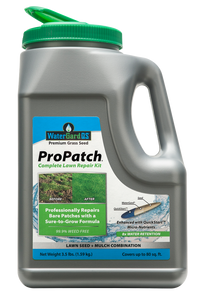 Mountain View Seeds WaterGard QS Pro Patch Lawn Repair Kit, 3.5-pounds
---
---
Spring and early fall are the best times to plant grass seed.
Seed germinates best when temperatures are between 68°F and 86°F.
New grass should be watered twice a day (or more under dryer conditions) to always keep the top two inches of soil moist.
Resume mowing when the lawn reaches a mowing height of at least 3 inches.
---
We Also Recommend