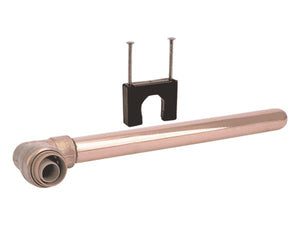 Sharkbite Brass Push Copper Stub-Out 1/2 in. SB x 1/2 in.
---
---
Innovative push-to-connect design makes for quick and easy installation during rough-in to enable a fixture to be installed after the drywall is completed and painted. Simply cut the stub-out and attach the necessary supply stop to finish the installation.

Compatible with PEX, copper, CPVC, PE-RT and SDR-9 HDPE pipe.
No special tools, crimping, glue or soldering required.
Approved for underground and behind-the-wall applications with no access panels (wrapping required when burying underground).
Remove using a Disconnect Clip or Disconnect Tongs (both sold separately).
Rated for 200 psi and 200°F (93°C).
25-year warranty.

---
We Also Recommend