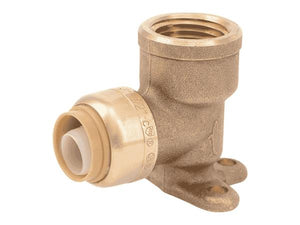 Sharkbite Brass Push Drop-Ear Elbow 1/2 in. x 1/2 in. FNPT
---
---
Make a 90° connection and transition to a threaded pipe. Has mounting ears with holes for securing to a support surface. Typically used for installing shower arms and tub spouts. Innovative push-to-connect design makes for quick and easy installation. Ideal for working in tight spaces. Faster install time and ease of use reduces installation errors.

Compatible with PEX, copper, CPVC, PE-RT and SDR-9 HDPE pipe.
No special tools, crimping, glue or soldering required.
Approved for underground and behind-the-wall applications with no access panels (wrapping required when burying underground).
Remove using a Disconnect Clip or Disconnect Tongs (both sold separately).
Rated for 200 psi and 200°F (93°C).
25-year warranty.

---
We Also Recommend